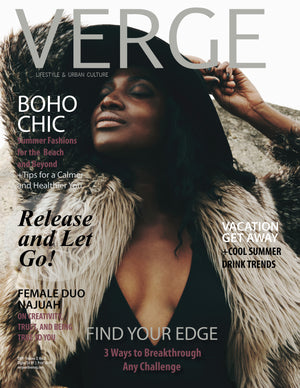 VERGE Magazine 2019 - Issue 2 (Digital)
*1 Year Digital Subscription - Buy Now
*1 Year Print Subscription - Buy Now
Release and Let Go! - This issue is all about how to release and let go, and how to be Boho Chic this summer with fashion pieces you can wear to the beach and beyond. Also, check out our exclusive interview with Najuah, as this sister duo share an insightful and soulful conversation about their journey as retro-indie artists in the music industry, and what inspires them to create, and to trust, and to be true to themselves. This issue is also about how to live healthier and calmer and how to find your own unique edge in life in order to breakthrough any challenge. Also, vacation hot spots, more natural beauty tips and lifestyle inspiration, as well as some cool drinking trends that mixologists are serving up this year, that you don't want to miss.
Read VERGE and become inspired!
Download and save the digital e-mag to your laptop, PC, MAC, tablet, or mobile device (including Android and iPad) to view in iBooks or PocketBook for Android, Adobe Reader, Adobe Acrobat (PDF), ePUB and other compatible PDF readers. For help downloading, click here.