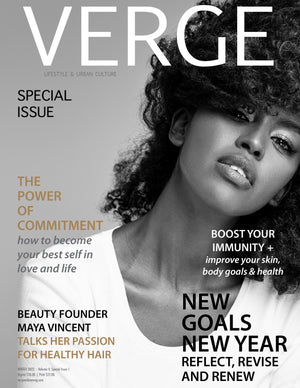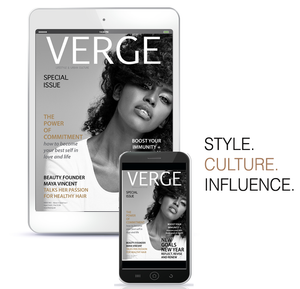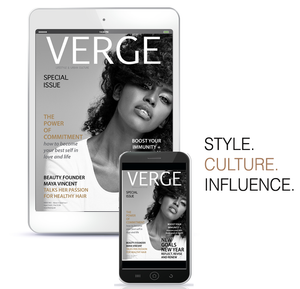 VERGE Magazine 2022 - Issue 1 (Digital)
*1 Year Digital Subscription - Buy Now
*1 Year Print Subscription - Buy Now
VERGE is a lifestyle magazine for stylish women of color about fashion, beauty, culture, healthy living, and personal and professional empowerment. Each issue of VERGE magazine empowers readers to reflect on their own lives and to appreciate their own unique individuality, while delivering an engaging mix of exclusive features including in-depth profile interviews with intriguing personalities. 
New Goals, New Year, New You! This issue is all about new beginnings and the power of commitment in love and life. It also features an inspiring interview with beauty entrepreneur Maya Vincent related to beauty and hair loss, and other articles and tips for re-creating your life anew. (40 pages).
Download and save the digital e-mag to your laptop, PC, MAC, tablet, or mobile device (including Android and iPad) to view in iBooks or PocketBook for Android, Adobe Reader, Adobe Acrobat (PDF), ePUB and other compatible PDF readers. For help downloading, click here.